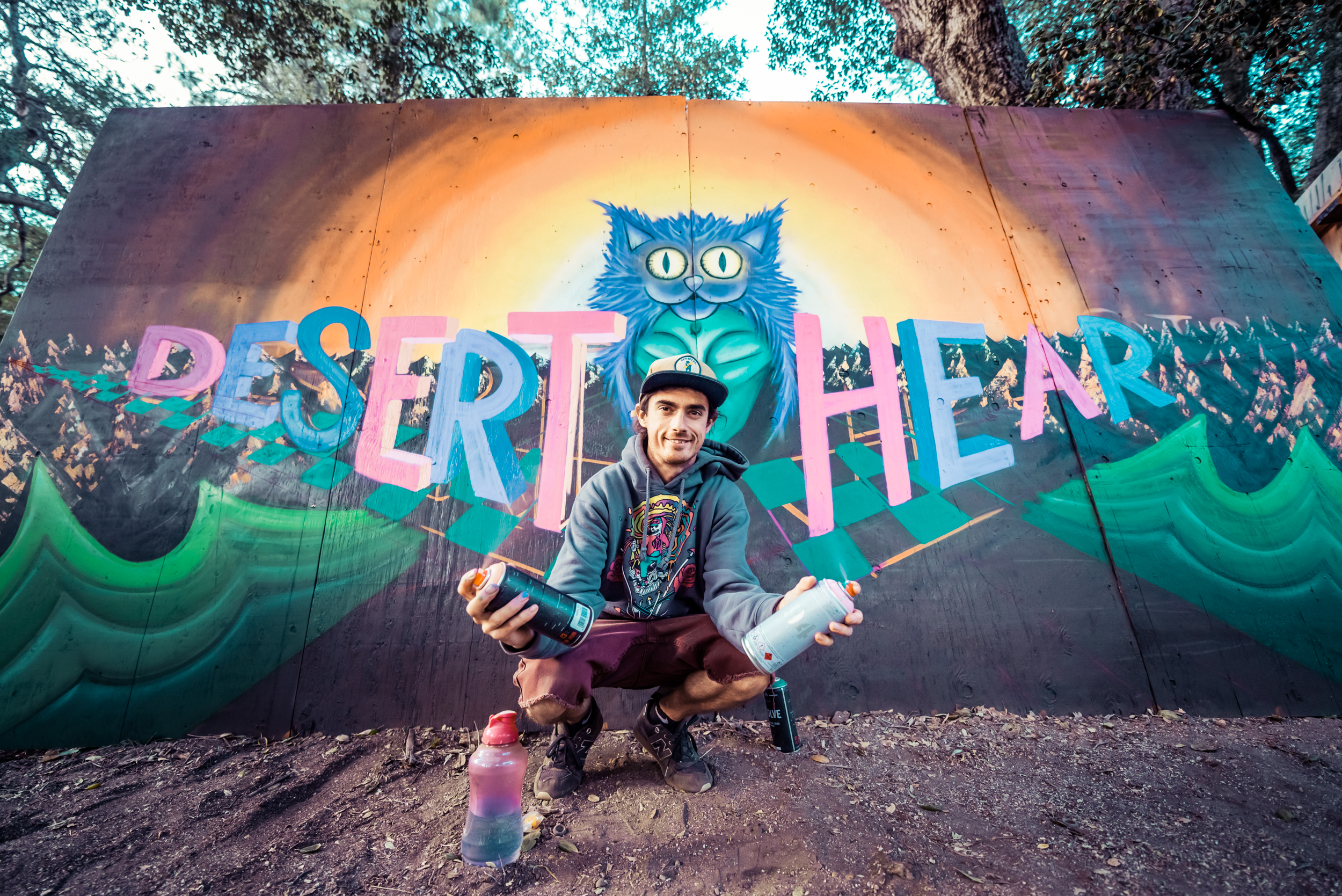 DESERT HEARTS 2019 PHOTO TAKEN BY: JESS BERNSTEIN
On April 26th, Desert Hearts 2019 developed on to their respected stomping grounds of Los Coyotes Indian Reservation in California. There was music, art, comedy, and most importantly love. This festival is truly like no other. If you're looking to meet friends, find inspiration, or even just learn more about yourself- then Desert Hearts is highly suggested. DH is a 5,000 person community-based festival that emphasizes togetherness, self- expression, kindness, environmental consciousness and so much more.
Desert Hearts 2019 painted a welcoming and colorful atmosphere
 for their seventh year.
The festival showcased gifted live painters, an assortment of vendors, performers, and eye-opening art installations. The scenic vibe set the perfect environment for attendees to express themselves as colorful as possible. People came dressed in the most eclectic and vibrant attire which added another layer to this expressive culture. The dance floor was surrounded by sparkly hats, glossy furs, and glowing totems. If you wanted to take a break from dancing, you could watch the talented fire performers and hoopers put on a show.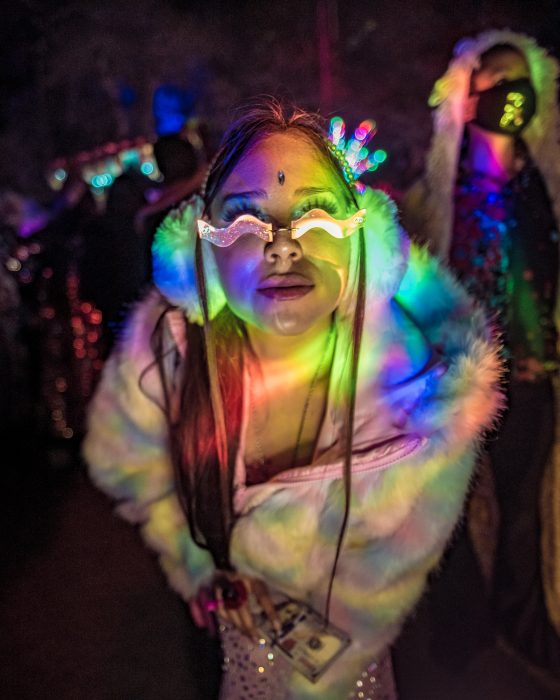 Desert Hearts 2019 photo Taken By: Peter Speyer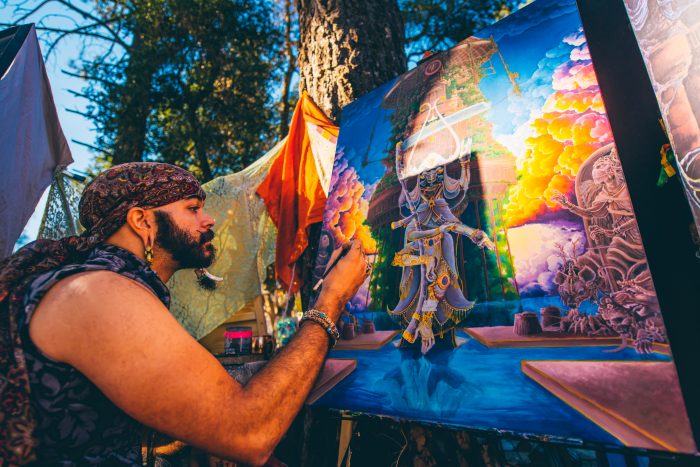 Desert Hearts 2019 Photo Taken By: Juliana Bernstein (Get Tiny)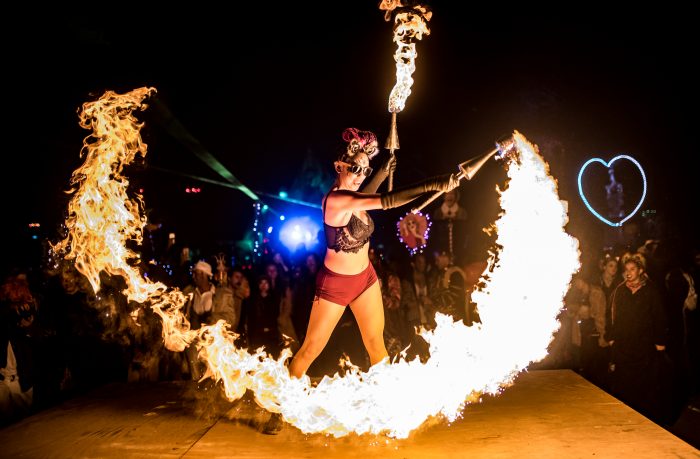 Photo Taken By: Jess Bernstein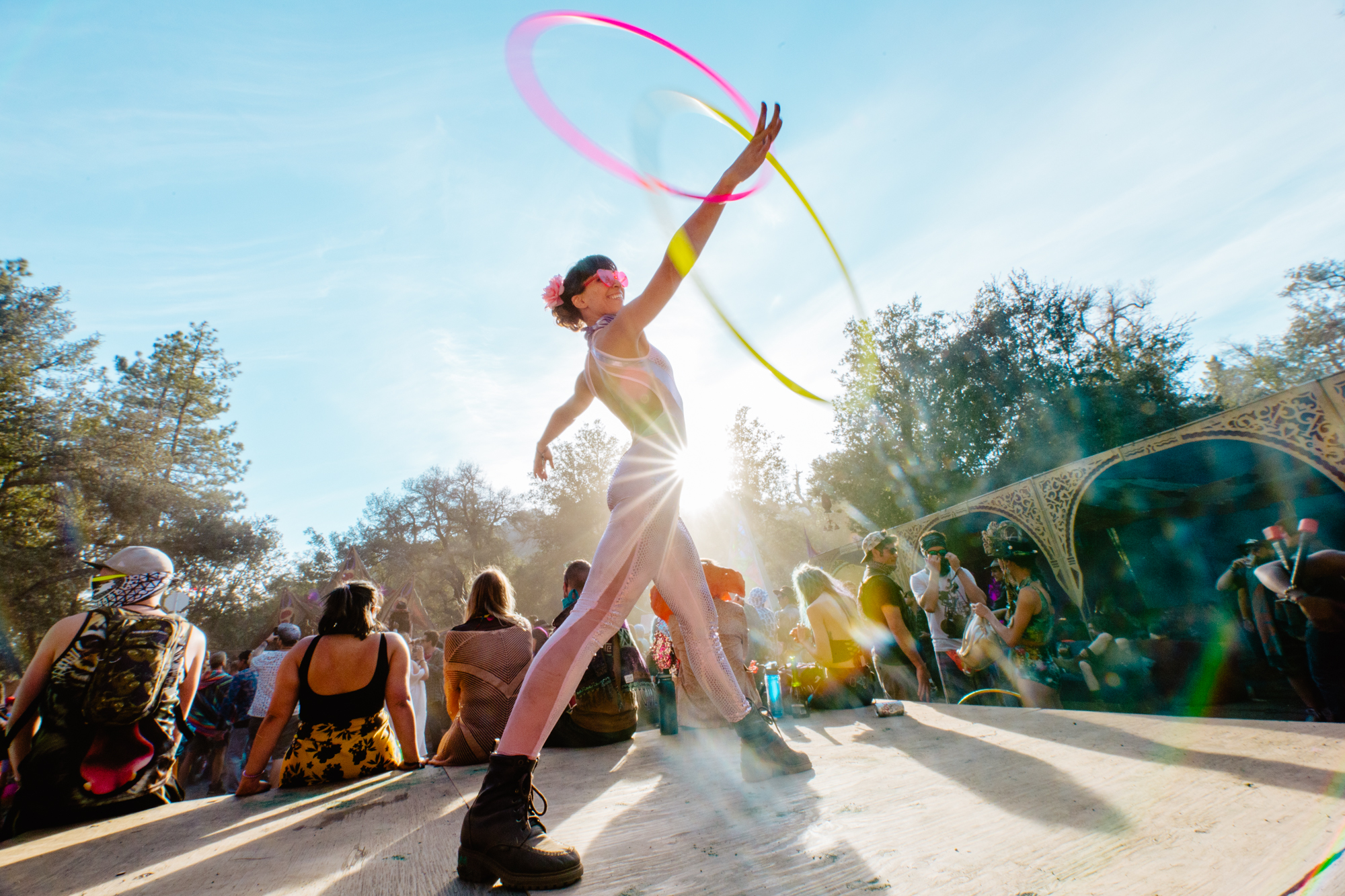 photo credit Jamal Eid
THE STAGE
Attendees were immersed in an awakening and underground music culture for the long weekend.
The music was centralized at one stage. Their mantra, "One stage, one love", is the embodiment of DH's community emphasis. Everyone dances together to one beat, vibing along to the same flow of energy. At the Desert Hearts crew panel, one of the organizers named Perception discussed the reason they play techno music at the festival. She said, "It's like a heartbeat." It's a continuous pulse, where words don't need to be spoken. With body language, there is no barrier. It's self-expression through movement. That energy swims through the crowd, where everyone can all feel this integrated positivity and oneness.
It was an underground haven for house and techno lovers.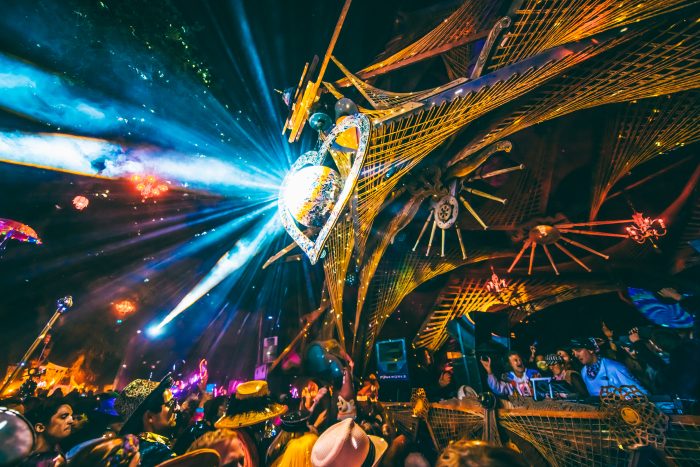 Photo Taken By: Juliana Bernstein (Get Tiny)
PERFORMANCES
On Friday night Will Clarke shook things up on the dancefloor with bassy hard-hitters and even dropped his latest collab with Bot entitled, "Feeling Good". He set up a hype crowd which led right into special guest Justin Martin to continue the Dirtybird vibes. A little later Tara Brooks returned for her residency at the festival and played a surreal deep house set that seamlessly weaved right into Rinzen's sunrise performance. The mau5trap recording artist played a medley of techno and dropped hits from his recent Prologue EP.
Stream Will Clarkle & Bot- "Feeling Good":
Listen to Rinzen – "Prologue" EP:
During the day on Saturday, Desert Hearts artist, Lubelski performed a bouncy afternoon mix amidst the DH fashion show.
Saturday night brought out Desert Hearts creators and beatmakers Mikey Lion, Porky and Lee Reynolds to the stage.
With his infamous, sparkly top hat and his upbeat tech house set Mikey Lion turned the party into second gear at the early evening. Following that, his brother Porky continued the bounce and dropped heat across the dancefloor. Reynolds entranced the hearts of dancers grooving along to his genre bending deep house mix.
Listen to Lee Reynolds' set from Desert Hearts 2018:
Stream Porky's Set from Haunted Hearts 2018: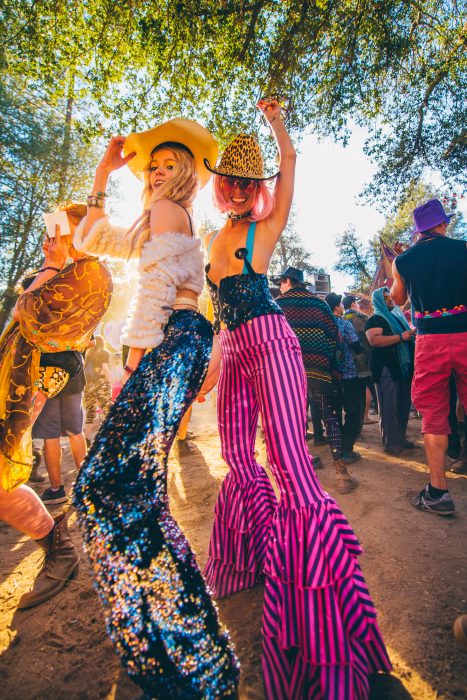 Photo Taken By: Juliana Bernstein (Get Tiny)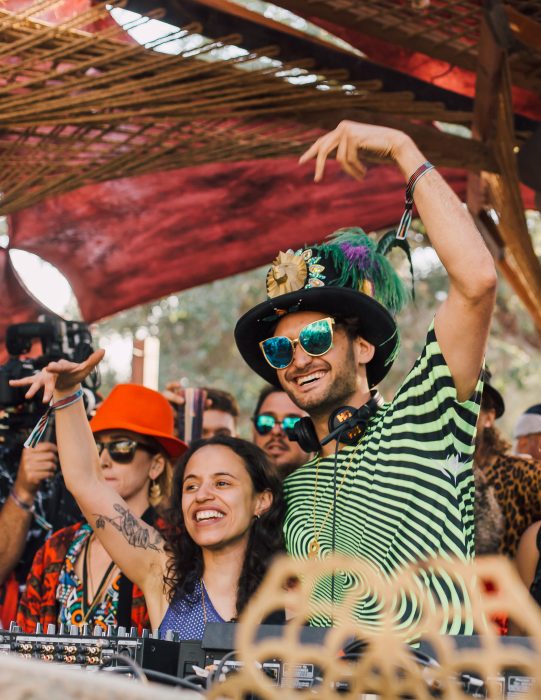 Mikey Lion / Photo Taken By: Keiki-LaniKnudsen
Sunday saw the likes of Doc Martin, Rodriguez Jr., Andreas Henneberg, and many others that each pumped energy into the crowd with their phenomenal sets. Berlin based, Dave Dinger definitely sent some festival-goers to another universe at 4 AM Monday morning with an unworldly experimental house mix.
Check Out Dave Dinger & Matija's Set from Garbicz Festival:
Beyond music there were plenty of activities to help you re-center your mind, generate a new perspective, or just make you laugh.
Soul Palace tent offered a variety of workshops such as a beginner flow lesson, a "Manifest Your Dreams into Reality" Yoga workshop, Crystals 101 with Free Father, and others.
The Healing Sanctuary offered glorious sound baths, sound healings, and many other opening and intimate experiences. The Heart Space showcased motivating speakers, workshops, stand up comedy, and even a panel with the Desert Heart organizers! The Heart Space tent was dressed as a mini art center, combined with a living room esthetic. Anyone was free to draw at any point during a workshop and let their creative juices flow.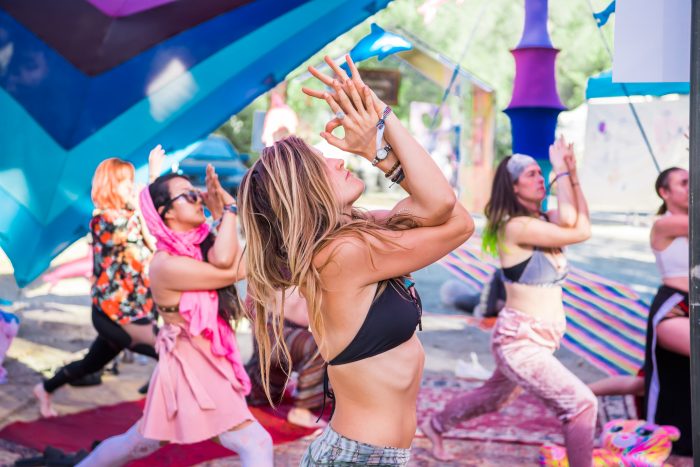 Photo Taken By: Jess Bernstein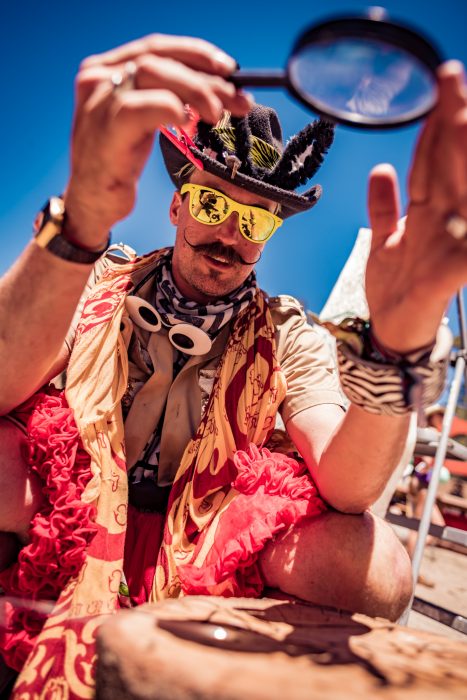 Photo Taken By: Peter Speyer
The Forgotten Fort is a new and must-see activation.
Connected to the Heart Space tent was a really unique activation called the Forgotten Fort. Baby socks  functioned as tickets to the Fort and were handed out across the festival. At the entrance, you were greeted by outlandish characters that had accents a la the Middle Ages. Inside, there were theatrical improv performances going on every five to fifteen minutes that were performed by some of UCB's all-stars. There were some of the funniest sketches I've seen. There were also some very surreal and thought-provoking performances. The creative depths that this team experimented with were so far from reality. You could honestly get lost in the fort for hours, possibly finding something you were searching for all along.
The Forgotten Fort is a new collaboration between Big Expression & Soldati Rocks and was created by Blake Shine and Garrett Mendez. They've certainly found a way to create surreal, psychedelic humor that seamlessly works into an improv show. The Forgotten Fort was last seen at Lightning in a Bottle and will be at Electric Forest in future weeks.
Desert Hearts left attendees with a new outlook to embrace for the future.
On Monday afternoon, the Desert Hearts crew (Lee Reynolds, Mikey Lion, Porky, Marbs) came out for their traditional b2b set to close out the festival. The creators shared their gratitude towards the Los Coyotes Indian Reservation and to the many volunteers that helped throughout the weekend. They also touched more on the significance of community, being conscious of our imprint on the planet, and bringing these practices back to our hometown. The crowd was then asked to give a moment of silence to respect the grounds our feet had been dancing upon throughout the weekend. We were then kindly asked to pick up trash along the way out of the festival. During the final minutes, Lee Reynolds played Tracy Chapman's "Talkin' bout a Revolution" which dispersed a warming and metaphysical response through the crowd.
Desert Hearts is not just a record label nor just a festival, it is a movement. The intention behind this glistening organization is to "to spread love through music towards a better way of life" (Desert Hearts Records).  Desert Hearts began as a 200 person renegade gathering in Mojave Desert and has now grown in to a 5,000-person tribe that continues to carry the same message.
Listen to "Talkin' bout a Revolution" by Tracy Chapman:
Listen to the Desert Hearts' Crew Closing Set from 2018: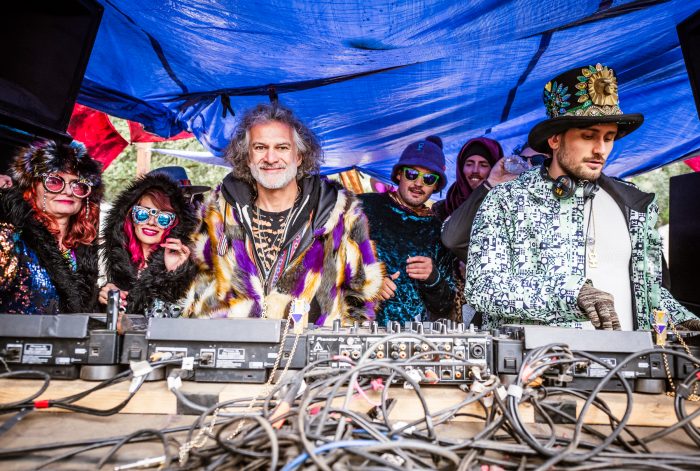 Lee Reynolds Performing During the Closing Monday Set / Photo Taken By: Jess Bernstein
Connect with Desert Hearts: Website | Facebook | Twitter | Instagram